The mall and chain retail stores tend to be the go-to for last minute gifts — who doesn't love soft pretzels and convenience? But when it comes to finding unexpected, meaningful, and unique holiday gifts, you'll want to stop at Kalon. We want to help you treat your loved ones to relaxing and rejuvenating self-care, so we've hand selected an array of must-have essentials, from bath bombs and  jewelry to skin care products and neck wraps. Our team is also great at helping you decide on those just-right gifts, so stop by the spa — you'll be glad you did. (And you might even find something for yourself, too.)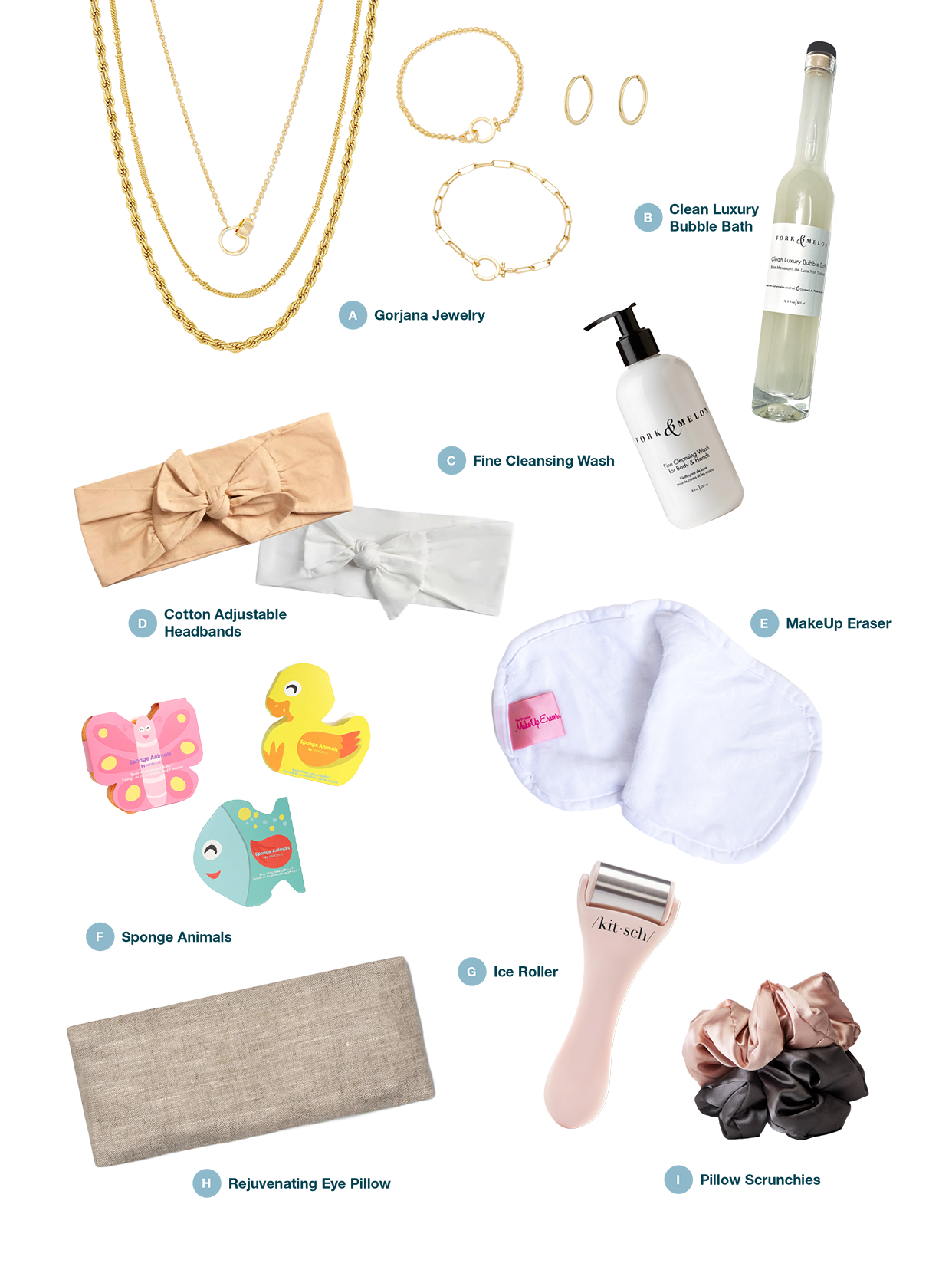 A. Gorjana Jewelry ($60 – $270) These understated and elegant gold necklaces, bracelets, and earrings from Gorjana make the perfect luxe gift for someone special.
B. Fork & Melon Clean Luxury Bubble Bath ($34) This luxurious, long-lasting bubble bath is made with watermelon seed oil that has detoxifying, moisturizing, clarifying, and anti-aging benefits.
C. Fork & Melon Fine Cleansing Wash for Body & Hands ($16 – $36) Full of healthy vitamins, minerals, and antioxidants, this gentle wash for body and hands provides the ultimate clean while leaving skin hydrated, soft, and supple.
D. Kitsch Cotton Adjustable Headbands ($12) These soft, breathable cotton headbands with adjustable ties are the perfect way to keep hair back or add a chic touch to any look!
E. MakeUp Eraser ($20) These ultra soft, reusable microfiber cloths can erase all makeup including waterproof mascara, eyeliner, foundation, and lipstick with just the help of water.
F. Spongellé Sponge Animals ($14) Turn bath time into an adventure with these playful animal sponges infused with a gentle body wash to clean and nourish skin.
G. Kitsch Ice Roller ($18) This stainless steel facial roller may help calm inflammation, promote healthy blood circulation, and alleviate sore muscles, tension, and headaches.
H. Dream Jumpers Rejuvenating Eye Pillow ($39) This weighted linen eye pillow is filled with organic flax seeds, pure lavender essential oil, and French lavender buds to soothe tired eyes.
I. Kitsch Satin Sleep Pillow Scrunchies ($18) The plush satin material of these sleep scrunchies won't crimp or agitate hair, allowing for comfortable nights and frizz-free mornings.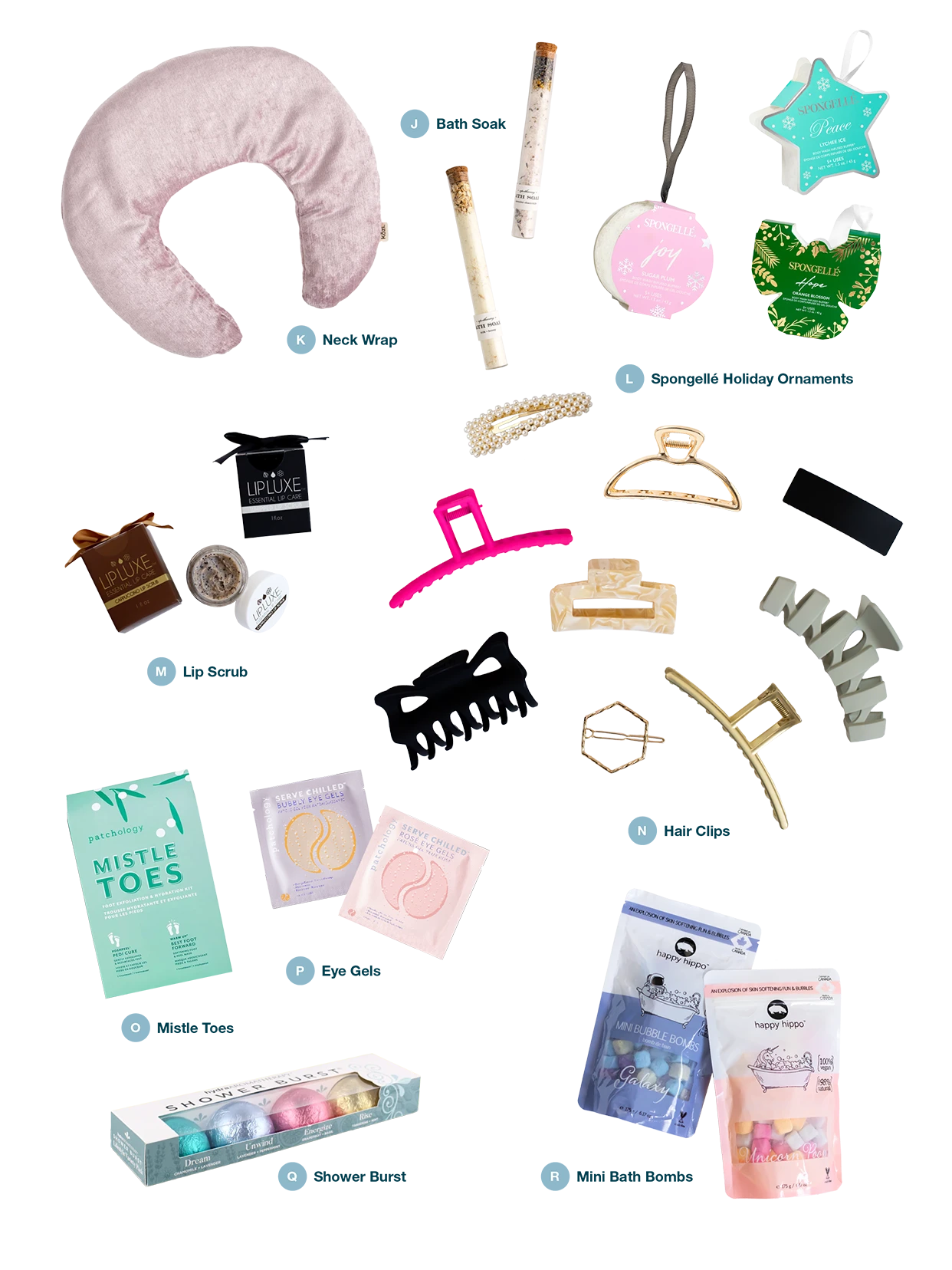 J. Nectar Republic Apothecary Bath Soak ($10) Give the gift of relaxation with these natural soaking salts featuring a mix of aromatic herbs and essential oils.
K. Kozi Soothing Neck Wrap ($45) This soothing neck wrap is filled with flax seeds and a special blend of herbs can be worn warm or cold to relax tight, stressed neck muscles.
L. Spongellé Holiday Ornaments ($12 – $14) These festive, ornament-shaped body wash-infused buffers cleanse, exfoliate, massage, and nourish.
M. Lip Luxe Lip Scrup ($18) Made with a whipped vegan base and natural cane sugars, these lip scrubs remove dead skin and repair chapped, dry lips.
N. Hair Clips ($6 – $10) From barrettes to jaw clips, we have a variety of hair accessories to add a touch flair to any hair type or style.
O. Patchology Mistle Toes ($27) This kit will exfoliate and soften frosty feet in just one fireside session. Talk about a Christmas miracle!
P. Patchology Serve Chilled Eye Gels ($15) Say cheers to these cool and bubbly under-eye gels available in hydrating rosé or brightening champagne.
Q. HydraAromotherapy Shower Burst ($26) When activated by the water and humidity the shower, the Shower Burst releases 100% pure essential oils for a true aromatherapy experience.
R. Happy Hippo Mini Bath Bombs ($13) These mini bath bombs add a burst of color to any bath, releasing skin-softening goodness and soothing scent while covering the bath with tiny bubbles.
https://kalonmedicalspa.com/wp-content/uploads/2022/10/Holiday-Gift-Guide-Blog-Feature.gif
800
1200
Kalon
https://kalonmedicalspa.com/wp-content/uploads/2020/04/Kalon-Logo-RGB-01-3.svg
Kalon
2022-10-26 15:59:00
2022-11-07 10:57:26
2022 Holiday Gift Guide