Five Cool Tips for Winter Skin Care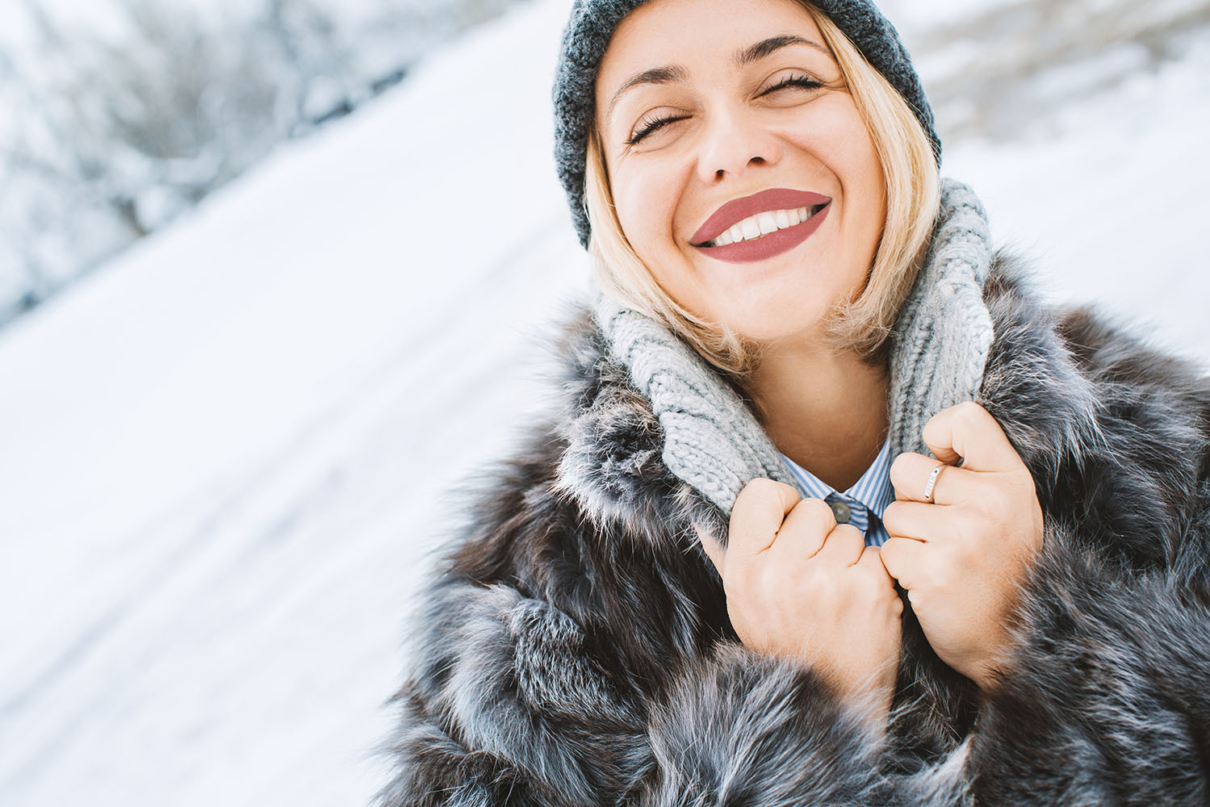 Wondering how to maximize your skin care routine? Worry s(no)w more! Here are Kalon's five tips on maintaining your glow during the dark days of winter:
1. Wear sunscreen
Cold weather does not impact UV rays, so applying an SPF in the winter is still important. Snow can also reflect the sun's rays. Be sure to protect anything exposed to the sun, especially your face, neck, and hands.
Alyssa Letcher, PA-C, loves using Revision's Intellishade. "I rave about this one all the time. It is tinted, moisturizing, and has an SPF of 46."
2. Exfoliate—less
Flaking, cracking, and even eczema often become problematic during the winter. Additional exfoliation can exacerbate skin dryness.
"The skin has a natural lipid barrier," Kayce Hansen, Licensed Aesthetician, says. "When you exfoliate more than three times per week, you're stripping your skin of its natural moisture and defense against dry skin."
Kacye recommends exfoliating three times per week to achieve best results.
3. Use a hydrating cleanser
Hydration is key for surviving a South Dakota winter. One exciting part of the winter season is the opportunity to try new products! Opt for gentle cream-based cleansers, like Coconut Milk Cleanser by Éminence Organics. Take care to avoid toners, astringents, and products that may contain alcohol as these may further dry your skin.
Kayce likes to use Éminence's Stone Crop Hydrating Mist throughout the day. "The hydrating mist keeps my face from appearing dry," Kayce says. "You can also spray it over makeup!"
4. Moisturize
Show your hands, lips, and face a little extra love during the winter. Chapped lips affect just about everyone in the winter, but you can stay ahead of the dryness by always carrying a lip balm.
Hands also tend to get neglected in the winter, and cracked hands can emphasize signs of aging. Keep a generous supply of hand creams and chapsticks readily available to combat dryness. Place them in familiar spots–like your car, home, and purse–and apply regularly!
5. Start from within
The outside world may be cold and barren right now, but that doesn't mean your diet has to be! Stock up on leafy greens and natural fats to get a healthy glow. Kale, avocado, and fish all provide essential nutrients. Though you should maintain a balanced diet year-round, pay extra attention to providing your body with foods that support healthy and moisturized skin during winter.
To learn more about winter skincare, check out this video from Keloland Living featuring Kayce Hansen and Kalon:

https://kalonmedicalspa.com/wp-content/uploads/2020/02/kalon-blog-winter-skincare.jpg
1000
1500
Kalon
https://kalonmedicalspa.com/wp-content/uploads/2020/04/Kalon-Logo-RGB-01-3.svg
Kalon
2020-02-14 08:46:52
2020-02-14 08:48:41
Five Cool Tips for Winter Skin Care