Transition Time: Tweak Your Skincare Routine for Fall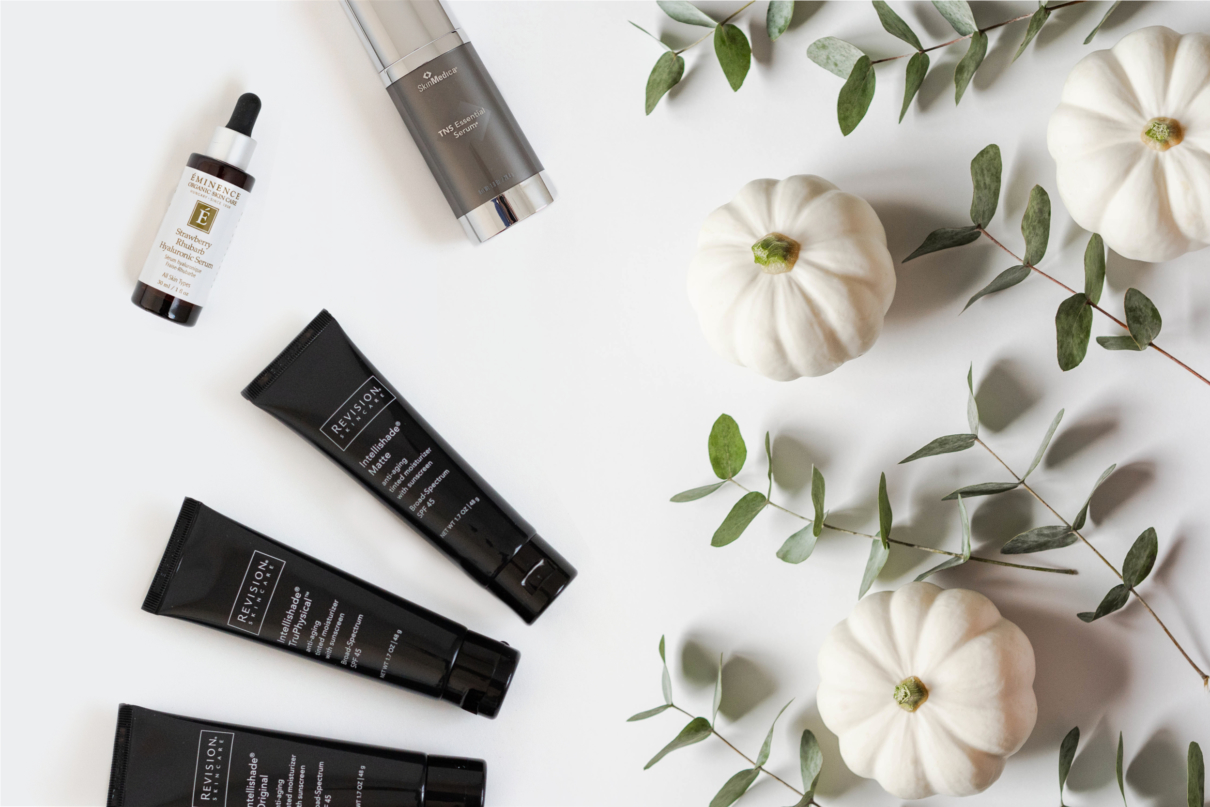 Halloween is here and with it comes a timely reminder to evaluate your skincare routine (and to add chocolate to your grocery list). Colder air means drier air, which has a noticeable effect on the way your skin looks and feels.
But you likely already know all of that (and the best places to hide your chocolate to boot). What you may not know is how to go about tweaking your routine. The moisturizer that made you glow in July might not be doing the trick anymore, but swapping it for something else can be downright scary. What if a new moisturizer causes a breakout? Or makes your make-up look, well, ghoulish?
So instead you keep using the same products and hope the cold weather passes quickly.
We get it. We've all tried to power through with what we already know and love. But we've found that a few simple tweaks can make a big difference. Here are a few things to try as temps drop:
One at a time. Instead of clearing out your routine and subbing in a completely new one, change just one product at a time. This way, you can pinpoint what's working and what isn't.
Weigh your moisturizer. Common sense tells us to increase our moisturizer's frequency and thickness during colder months, but proceed with caution as that can also cause clogged pores. Ideally, you'd select a moisturizer from the same brand you already use and step up to something heavier for fall and winter. Try alternating between your lighter and heavier moisturizer as your skin acclimates to a new routine.
Check labels. Look for products with glycerin, ceramides, and hyaluronic acid as those ingredients pack the greatest moisture punch.
Add on. Boost your current routine simply by adding an exfoliator or serum. Exfoliators remove dead cells, preparing your skin to better receive moisture while serums contain calming ingredients that can soothe dry, flaky skin. Some products even do both. Another helpful add-on? Hydrating masks. Treat your skin twice a week for best results.
Try rotating. Your skin can build up a tolerance to products so pay attention to what works and for how long. When one product loses its effectiveness, have another to rotate into your routine.
Be nutrition minded. Summer provides regular vitamin D and plenty of fresh fruits and vegetables to consume, but as the weather grows colder, those things aren't as readily available. When our nutrition suffers, so does our skin. Taking a daily supplement can make up the difference until the warmth returns.
We'd love to talk more about your skin's unique needs! Our knowledgeable staff can recommend the perfect products to get your skin on the path to a healthy glow. We offer convenient online shopping and curbside pick-up options. Start by booking your virtual consultation today.
https://kalonmedicalspa.com/wp-content/uploads/2020/10/Kalon-Halloween-Blog-Post-Image-2020-10-30.jpg
1667
2500
Kalon
https://kalonmedicalspa.com/wp-content/uploads/2020/04/Kalon-Logo-RGB-01-3.svg
Kalon
2020-10-30 08:15:50
2020-11-13 08:40:43
Transition Time: Tweak Your Skincare Routine for Fall