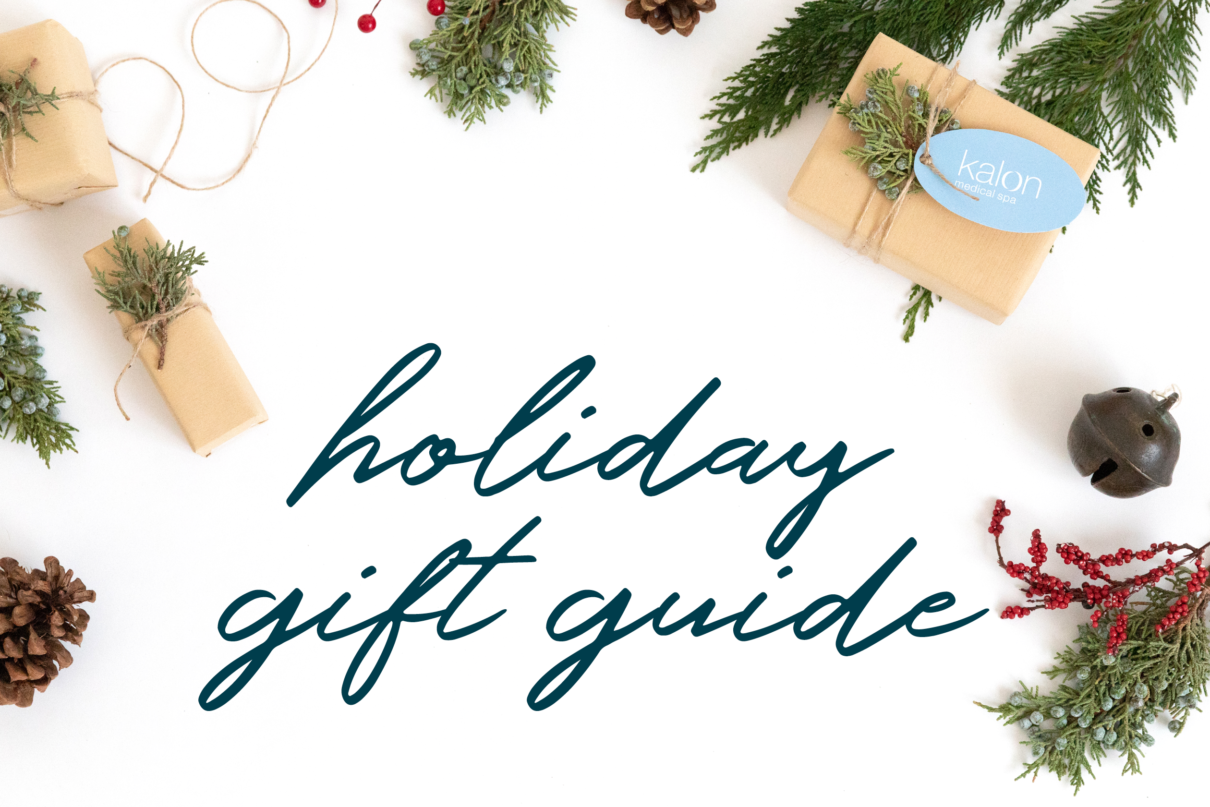 The holidays are finally here and to make your shopping as stress-free as possible, we've put together a gift guide with some of our favorite products. From fun stocking stuffers to more luxurious skincare sets, there's sure to be something for everyone on your list. Browse our guide below and then come into our store and we'll help find everything you need so that you can sit back and enjoy the season!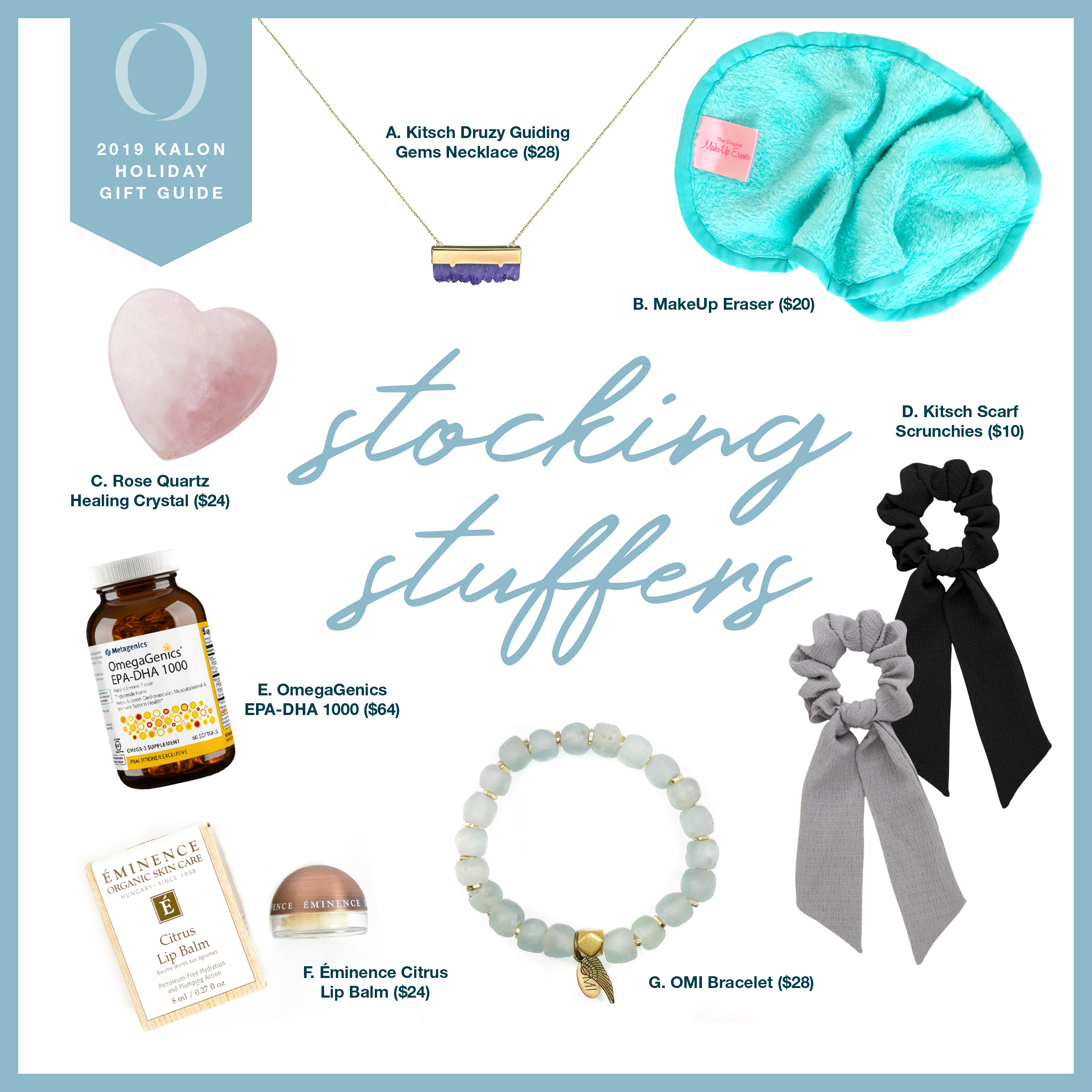 Stocking Stuffers
A. Kitsch Druzy Guiding Gems Necklace ($28) Druzy crystals are believed to radiate soothing energy while catching hints of rainbow colors as the light hits them.
B. MakeUp Eraser ($20) A reusable and machine-washable makeup remover.
C. Kitsch Rose Quartz Healing Crystal ($24) Rose quartz carries a soft energy of compassion, peace, and healing. It's useful for attracting not only romantic love, but unconditional self-love into your life.
D. Kitsch Scarf Scrunchies ($10) These scrunchies feature a chic tail to add dimension to ponytails.
E. OmegaGenics EPA-DHA 1000 ($64) A concentrated, purified source of omega-3 fatty acids that helps support cardiovascular, musculoskeletal, and immune system health.
F. Éminence Citrus Lip Balm ($24) A petroleum-free lip balm that hydrates and plumps.
G. OMI Bracelet ($28) These bracelets are made with semi-precious stones and charms that give positive energy and good vibes.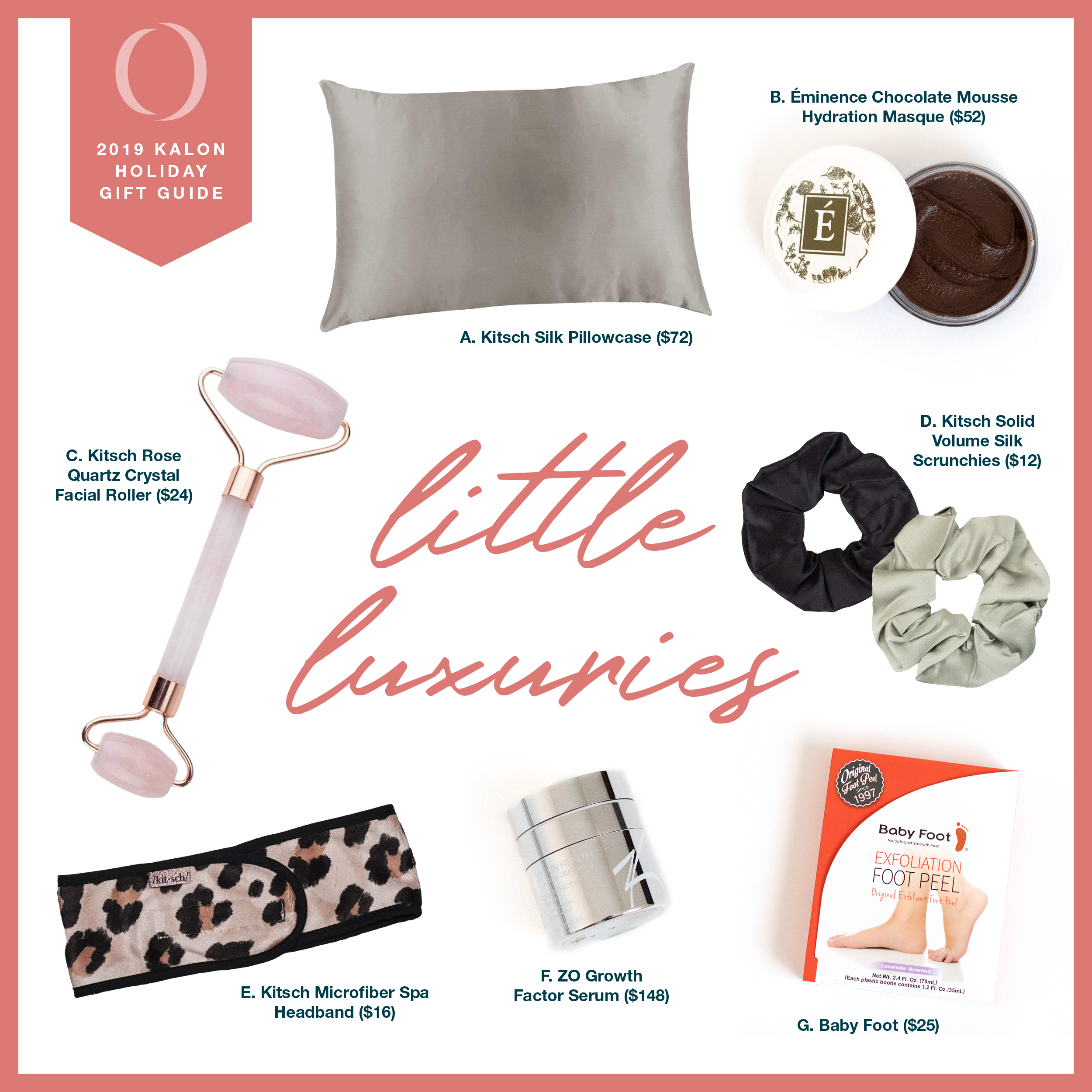 Little Luxuries
A. Kitsch Silk Pillowcase ($72) The Mulberry silk construction won't agitate their strands while they sleep, allowing them to wake up frizz-free and ready to take on the day.
B. Éminence Chocolate Mousse Hydration Masque ($52) This mask fights signs of aging and provides skin-deep hydration that will leave their skin smooth.
C. Kitsch Rose Quartz Crystal Facial Roller ($24) A gentle way to massage tension and relieve stress while reducing fine lines and assists with better circulation.
D. Kitsch Solid Volume Silk Scrunchies ($12) These 100% silk scrunchies are ideal for banishing frizz while being kind to their hair.
E. Kitsch Microfiber Spa Headband ($16) This multifunctional headband holds the hair back while also holding the hair in a ponytail.
F. ZO Growth Factor Serum ($148) A lightweight gel that strengthens skin, supports skin rejuvenation, and protects against future signs of aging.
G. Baby Foot ($25) An exfoliating mask that will pamper their feet.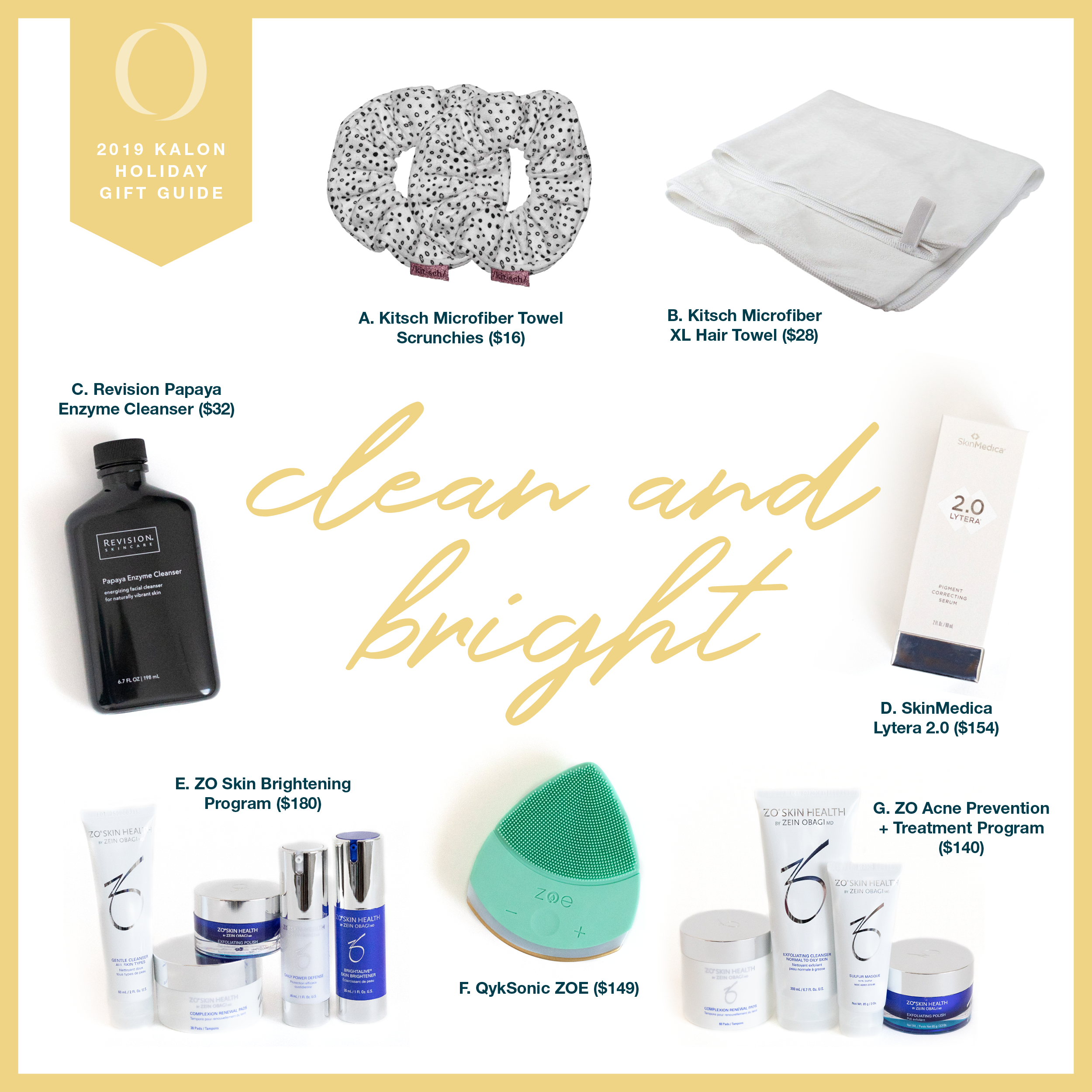 For Clean and Bright Skin
A. Kitsch Microfiber Towel Scrunchies ($16) These absorbent scrunchies will hold their hair back after a shower.
B. Kitsch Microfiber XL Hair Towel ($28) This soft and gentle microfiber towel adds comfort and convenience to post-shower routines and accommodates all hair lengths.
C. Revision Papaya Enzyme Cleanser ($32) An energizing facial cleanser for naturally vibrant skin.
D. SkinMedica Lytera 2.0 ($154) A brightening serum that targets and corrects the appearance of hyperpigmentation.
E. ZO Skin Brightening Program ($180) This regimen works to brighten skin tone and lessen the appearance of discoloration.
F. QykSonic ZOE ($149) A sonic skincare device that cleanses, massages, and applies skincare products.
G. ZO Acne Prevention + Treatment Program ($140) A preventative treatment regimen for acne and breakouts.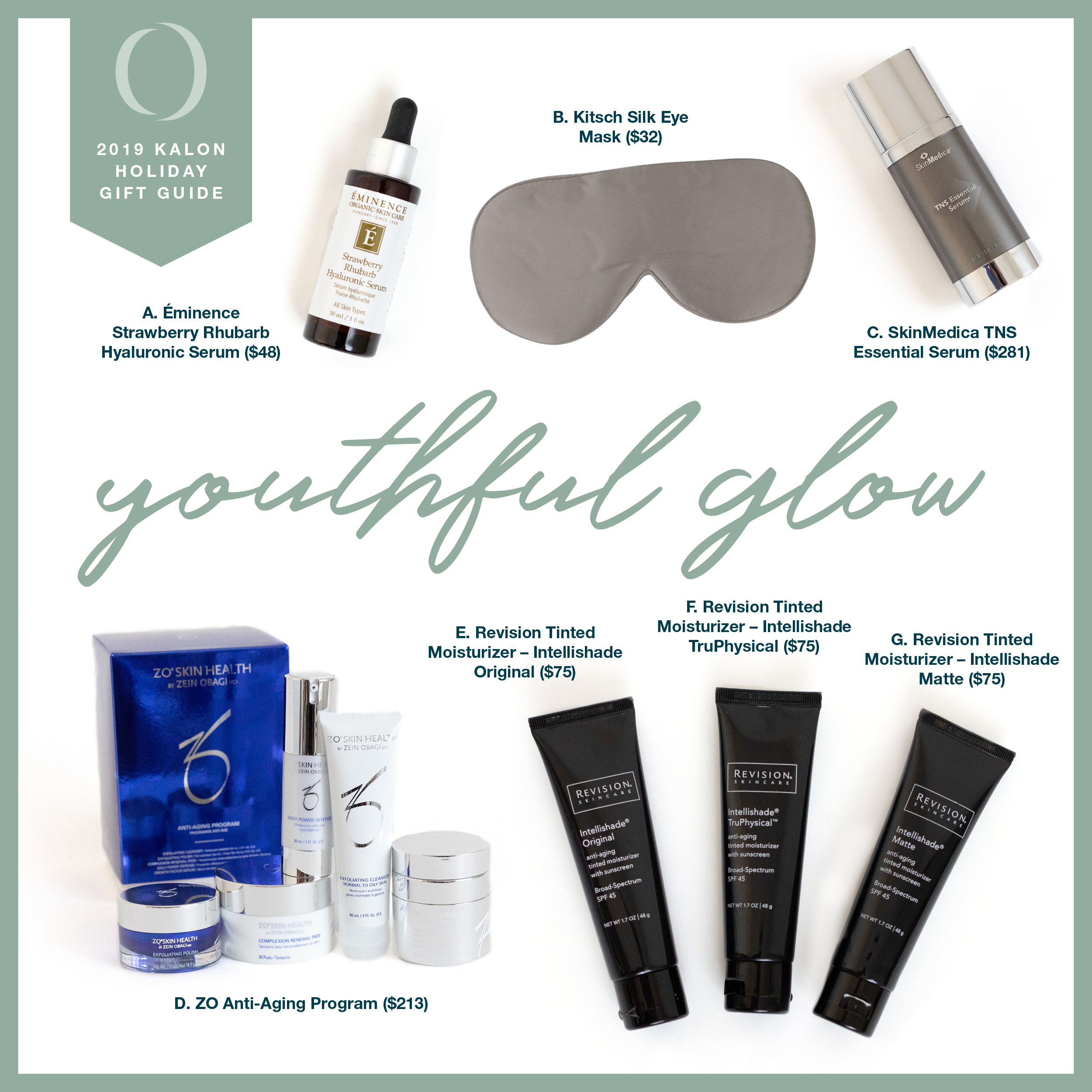 For Restoring a Youthful Glow
A. Éminence Strawberry Rhubarb Hyaluronic Serum ($48) This serum smooths wrinkles and helps skin bounce back to it's youthful-looking glow.
B. Kitsch Silk Eye Mask ($32) The soft silk construction is designed to care for their skin and help them sleep comfortably while still looking chic.
C. SkinMedica TNS Essential Serum ($281) An anti-aging treatment with a dual formula that creates a more youthful-looking appearance.
D. ZO Anti-Aging Program ($213) This skin regimen will strengthen skin's appearance and protect against future damage.
E. Revision Tinted Moisturizer – Intellishade Original ($75) An anti-aging tinted daily moisturizer with sunscreen.
F. Revision Tinted Moisturizer – Intellishade TruPhysical ($75) An anti-aging tinted daily moisturizer with 100% mineral sunscreen.
G. Revision Tinted Moisturizer – Intellishade Matte ($75) An anti-aging tinted matte finish daily moisturizer with sunscreen.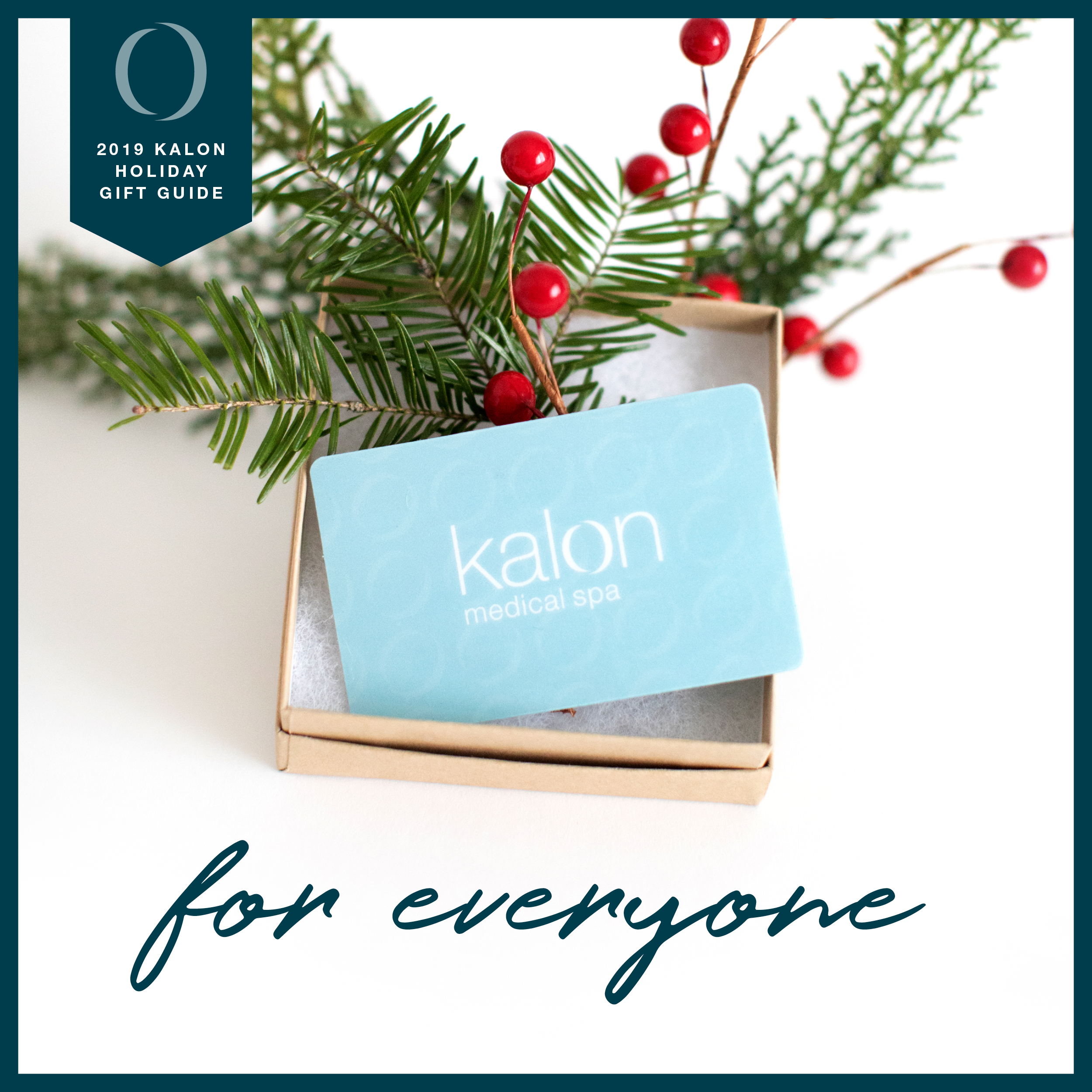 For Everyone
Still not sure what get someone on your list? A Kalon gift card is the perfect one-size-fits-all solution and can be purchased online or in-store!
https://kalonmedicalspa.com/wp-content/uploads/2019/11/Kalon-Gift-Guide-Header-2019-11-22.png
1681
2521
Kalon
https://kalonmedicalspa.com/wp-content/uploads/2020/04/Kalon-Logo-RGB-01-3.svg
Kalon
2019-11-22 16:29:29
2020-02-13 09:56:05
2019 Holiday Gift Guide